BrushBoarding @ Airkix Indoor Skydiving centre UK
BrushBoarding is one of the hottest new activities to try at the brand new Airkix Indoor Skydiving centre at The Leisure Park in Basingstoke UK.  The family activity centre is the newest site for the sport of BrushBoarding and is fast becoming one of the latest must have interactive board sports attraction on the market.
The Brush Ramps patented technology appeals to a wide age group of users proving to offer a unique, safe and fun introduction to all board and non-board sport enthusiasts alike.
Natalie Morris of 'Sportsister"
(The Women's Sport Magazine) recently attended the Airkix centre and wrote:
20th June 2013
"I was wary of BushBoarding – all the fun of surfing without the water – but it turned out to be my favourite activity! This activity is a great cardio workout – you will get sweaty! It works your balance and coordination as well as giving you a fun taste of the surfing experience. I couldn't stop grinning throughout and it's almost tempted me to give surfing a go for real"
The new activity centre boasts a 14ft (4.3m) diameter, super-smooth wind tunnel for indoor skydiving, which takes pride of place. The centre also features additional activities designed for added visitor appeal including, Skiplex (skiing without the cold stuff) and Sim Car Racing, state of the art, full motion simulators.
Kyle Dent creator and founder of BrushBoarding states "The team is excited about the installation of BrushBoarding into the Airkix centre. We are looking forward to ramping up (pun intended) our business so we can share this positive sense of rider achievement associated to BrushBoarding with as many people as possible globally"
To find out more information about the new sport of BrushBoarding go to: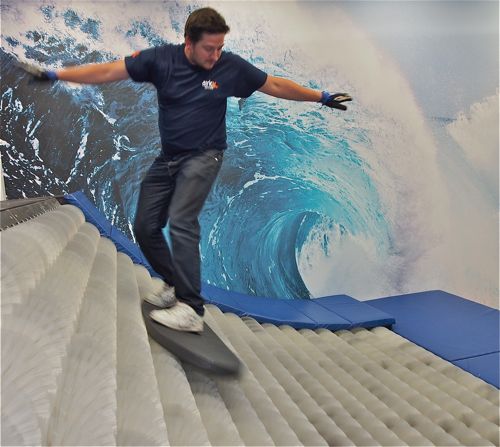 ← BrushBoarding on the BBC 'Friday Download'
Fitness through Fun with the Scouting association. →
Comments are closed.